WELCOME TO BREAK ONE, QUEENSTOWN
YES WE ARE OPEN!
COVID-19 Level 2 Update – 18.05.2020: We're open for shooting!! We're managing the health and safety of everyone so we can safely operate at Alert Level 2. Read here to find out more.
Come and share our passion for Clay Target Shooting amidst the stunning landscape on the private Queenstown Hill Station.
Our professional instructors will guide you in the unique sport of Clay Target Shooting, guaranteeing an exciting adventure like no other in Queenstown!
Offering you courtesy transport, full instruction and coaching on a variety of targets. Whether having never shot, or a seasoned professional, your experience will leave you enthralled with Clay Target Shooting. No experience is required to have fun at our shooting range!
We personally
guarantee that you will
hit a target – and have
fun doing it!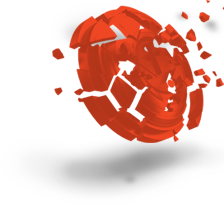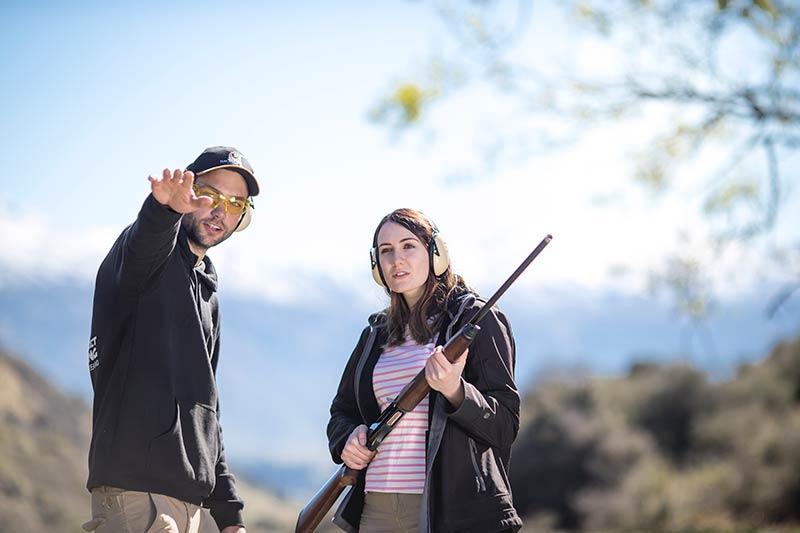 the experience
Great for the first time shooter! This is a fantastic activity for family and friends with full instruction and coaching, shoot 6 scored stations with plenty of practice finishing off with our Beretta Challenge of 4 targets one after the other. Come along and learn a new skill.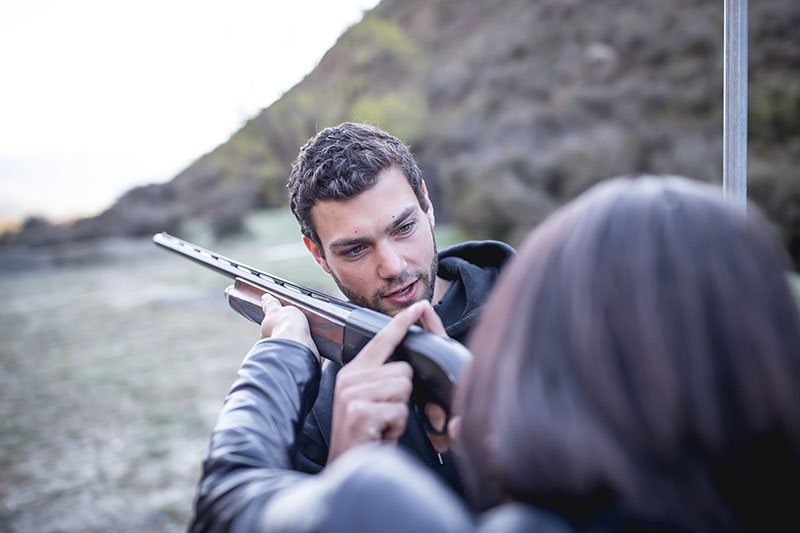 the challenge
Our most popular package shooting 8 scored stations. The Challenge builds on the skills you learn shooting our Experience followed by a stepping up to shoot our true doubles Olympic style. This option offers the most bang for your buck and yet suitable for first time shooters.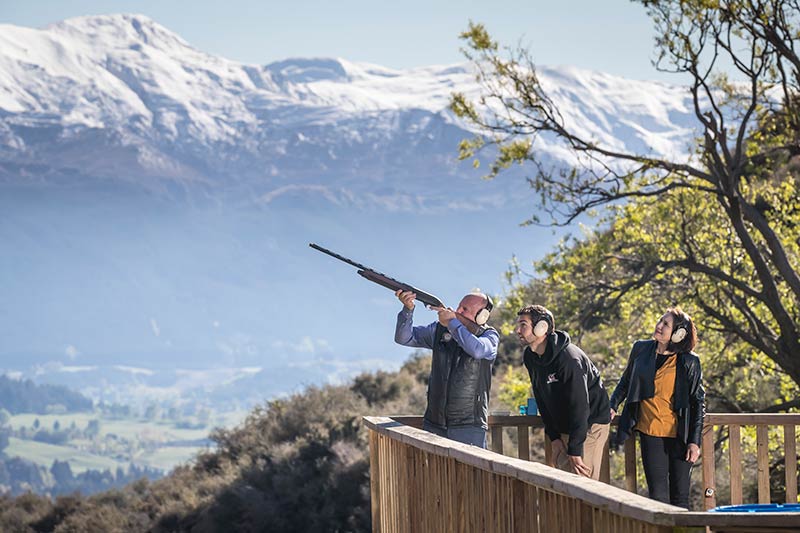 top gun
Ready to make some noise? This is our premier shooting excursion unlike anything else in Queenstown, shooting 10 scored stations. This includes all the coaching and excitement of our popular Experience and Challenge options. Then we will up the tempo with Olympic style true doubles to test any shooter.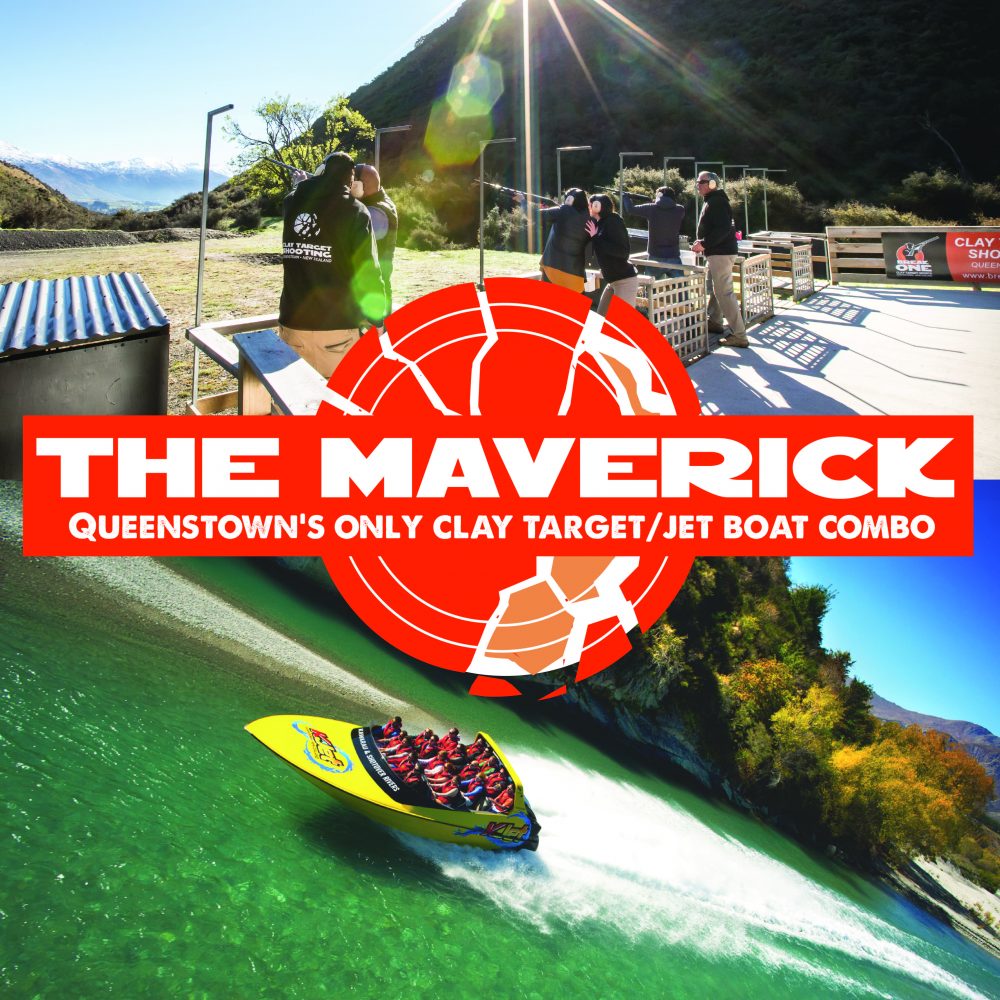 the Maverick
Queenstown's only Clay Target/Jet Boat Combo!
Be a Maverick with Break One Clay Target Sports at our private range amidst the stunning landscape on Queenstown Hill Station. Then go full throttle at speeds of 95kph on a 60 minute Jet boat ride on the mighty Shotover and Kawarau Rivers. Save $31 per person with our classic Maverick combo!

Great tuition from Tom, exceeded our expectations and great location up in the hills. There was something for all levels and we'll definitely be back again!
– Angela via Facebook
Was a great activity! Blake was a wonderful tour guide/shooting instructor. I even managed to hit the targets – 15 out of 24 shots! Not to bad for a first timer!
-Amy via Facebook
I went along just to support my husband, but ended up loving the day as much as he did! Blake was an amazing instructor, and the specially designed gun was perfect for a first timer. I highly recommend giving this a go!
-Cat via facebook
Loved it! The whole experience is amazing, from start to finish. Blake has the knack of making you feel comfortable at all times. We will be back for round 3 next year!
-Tanya via Facebook
Blake was helpful, safety conscious and we had a few good laughs. Something to tick off the bucket list!
-Leanne via Facebook
Having never used a gun before, Blake offered expert guidance and assisted my wife and I in a fantastic new experience!
-Issac via Facebook
We had a blast and look forward to coming back again and again!
-Robert via TripAdvisor
Blake is super friendly and a professional in his field. With him, it is a guaranteed success!
-Jade via TripAdvisor
The whole experience was top notch! A must try experience!
– Joy via TripAdvisor
For first time shooters – this experience was fantastic! Highlight of our trip!
– Mei via TripAdvisor
Great adrenalin rush shooting a shot gun for the very first time!
– Hayden via TripAdvisor